A brief history of Aquaplane
By J Stavely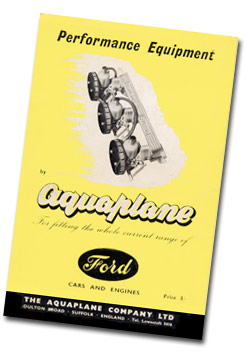 Founded in the mid-1950s, Aquaplane first specialised in the manufacture and sale of tuning equipment for Ford and BMC engines from its base in Oulton Broad. Aquaplane's founder, Harmer Copeman, had started racing motorboats on Oulton Broad in 1936 whilst still a student at Loughborough Engineering College. He had immediate success, taking second place in the first heat of the prestigious Daily Mirror Trophy against sixteen of the country's top hydroplane racers. An early indication of his tuning abilities, perhaps, was to be seen from his disqualification by the engine inspectors after the second heat.
Power boats were to be an important influence in the formation of the company after the war when the Darby-One Design, an inboard-engined hydroplane powered by the 10 hp. Ford sidevalve engine, became popular on Oulton Broad after its introduction in 1947. The Ford engine was cheap and in plentiful supply, and since all the hulls were identical it was immediately apparent that the way to win was to extract more power from the humble but robust 1172 cc. Ford. Harmer Copeman's Squib was soon the boat to beat and despite the handicappers continually moving him backwards he still managed to win by continuous development of his engine. Soon other drivers were clamouring for similar tuning parts and the business grew rapidly.
There were not enough powerboat racers to sustain this growth. The fifties however saw an enormous interest in Specials. These were small sports cars built using the mechanical components from old small saloons fitted to homebuilt or proprietary chassis, or simply a fibreglass body fitted to the Ford chassis, Soon their builders were seeking more power and ringing Lowestoft 5416 for a catalogue. The best-known proprietary chassis was undoubtedly the space framed Buckler, of which more than 500 were built. Many were used for trials or racing, both of which activities were to create important markets for Aquaplane. Further recognition came in 1957 when Morgan decided to fit their 4/4 Series II Competitions model with 1172 cc. Ford engine equipped with an Aquaplane head and twin SU's as standard.
By the 1960s the biggest market for tuning equipment was for improving the performance of standard saloon cars such as the Ford 100E Anglia, Prefect and Popular and later the 105E Anglia. By then Aquaplane were advertising themselves as "Manufacturers of the largest selection of Performance Equipment for Ford cars in the world". To stay at the forefront of this market required continuous development and testing, both on the dynamometer and on the road. Aquaplane avoided making exaggerated claims for the extra power obtained but relied on their reputation gained in all forms of motor sport. Although Ford equipment was the mainstay of Aquaplane's business they also manufactured tuning equipment for the A series BMC engine and the Morris Minor series II and 1000. As an interesting aside, Harmer Copeman's final racing boat, Barracuda, was powered by the supercharged 4 litre Lycoming engine and he also owned three 800 series Cords, an American, front-wheel drive car fitted with a vee-eight Lycoming engine. This side valve design suffered continual overheating problems and he overcame these by designing and building alloy Aquaplane heads to replace the standard cast iron version, which had inadequate water passages, and the Aquaplane version became popular with Cord owners far and wide.
The extensive range of equipment now available from Aquaplane was either manufactured in house at the works at Camps Heath, Oulton, or manufactured for Aquaplane by outside suppliers. The latter included a range of instruments labelled as Aquaplane but manufactured by Smiths with both mechanical and electronic rev-counters and the quaintly named Aquaplane fuel consumption ratemeter, which was actually a vacuum guage. The mainstay of the business was the Aquaplane Superhead and associated manifolds, available for most of the Ford small car range up to the Cortina, but manifolds were also available for the Consul, Zephyr and Zodiac with a triple SU set up for the six cylinder versions. The Aquaplane lightweight alloy flywheel was manufactured from heat-treated, high tensile alloy in two versions, with steel pressure face insert for road use and a competition version without the insert. To accommodate the increased performance available Aquaplane also manufactured a range of high capacity oil and water pumps and cast alloy oil coolers, with both full flow and bypass types being supplied for the sidevalve Fords depending on the application. Valves, heavy-duty valve springs and racing and sports camshafts were also available, but the Aquaplane Twin Exhauster and Deep Note Converter may have been more cosmetic than a practical performance booster! Aquaplane never deserted its marine roots and continued to produce marinising equipment for the 1172 cc. Ford engine, including a marine water pump assembly and a clever water-cooled inlet manifold, with adapters to allow the fitting of single or twin carburettors of almost any make.
Aquaplane had grown in less than 20 years to be possibly the best-known performance equipment manufacturer in Britain, but it was still located in what had been the back garden of the Copeman family home, The Gables in Sands Lane, Oulton. Despite this success, in 1972 Harmer Copeman decided to sell up, perhaps tempted by increasing land values. The Aquaplane business was sold without premises and moved to Old Buckenham in Norfolk, where it only survived for another three years, despite development of new lines including equipment for the B Series BMC engine. Fortunately there were still enthusiasts for the well-made equipment from Oulton Broad and it has been feasible to remake the patterns for some of the original range, which is still in production today.